Convert your turf into a lush, green lawn!
Make Your Home The Envy Of All Your Neighbours!
We offer a full range of turfing services, including grass planting, topsoil filling, subsurface system installation, grass cutting, and maintenance.
We are experts in turf management, whether it's basic turfing, events, NParks-approved standards, or sports field standards. Our well-trained staff ensures a one-time handover for turfing projects.
NO Stones, NO Water stagnation, NO Uneven surfaces.
Allow our team to do all of the legwork for you, whether it's for your house, business, or trade. Every single turf will be installed by expert professionals if we provide and install your lawn.
WE ARE YOUR FIRST CHOICE FOR TURF
Best value for your money by ordering quality turf from the professionals who care.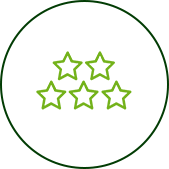 Excellent Service
We take pleasure in offering friendly and helpful customer service. Our knowledgeable CS can answer your inquiries and assist you in choosing the best turf for your needs.
Farm Fresh
Our turf is harvested fresh to order and delivered immediately to ensure maximum freshness, ensuring that our customers only receive turf of the greatest quality.
100% Quality Turf
We supply high-quality turf, resulting in the ideal lawn for your property. Be confident that we will only continue to grow and provide the finest.
30 Days Warranty
When purchasing our turf, there is no need to be concerned. For your piece of mind, our turf is covered by a 30-day product warranty.
Garden Turf Lawn Installation
When the weekend arrives, the last thing you want to do is install new turf! We understand our consumers, which is one of the reasons we are Singapore's premier turf supplier. We know you'd rather be relaxing and enjoying your new surroundings. So we insist that you delegate the heavy lifting to us!
Direct Garden Landscaping not only provides our customers with the greatest quality turf supplies, but we also offer professional turf installation. Our turf installation crew is made up of highly competent employees that have years of expertise laying turf quickly. Their work is assured to meet the highest standards.
Cow Grass (Axonopus Compressus)
broad and short leaves that can be spotted on the sides of Singapore roadways.
Pearl Grass
Pearl grass resembles cow grass in appearance. This grass, on the other hand, has shorter, rounder leaves that grow sideways.
Carpet Grass
Grass has coarse leaves and can grow to be 50cm tall if left undisturbed.
Philippine Grass
Hardy grass once they take root