Outdoor decking Timber in Singapore
Popular Wooden Decking Choices
Nothing beats the look and feel of natural wood decking.
Painting or Staining Your Deck
Deck Staining, Painting & Refinishing Company You can Trust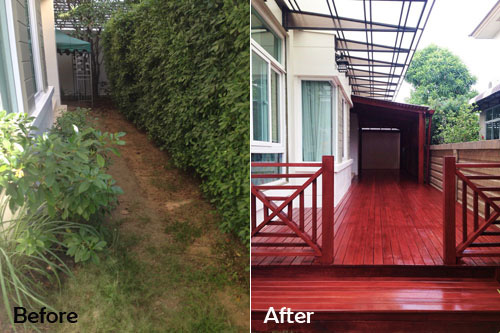 Timber Decking Installation
Trusted Provider Of Quality Timber Decks at Competitive Prices
Repair and Refinishing Your Wood Decking
No Payment Until Our Work Is Complete For Ultimate Customer Satisfaction.
Professional Timber Decking Contractor in Singapore
We are your expert timber decking contractor. Our team is knowledgeable on all things related to timber decking, from selection, installation to finishes, we gave professional advice to you on the processes and requirements for a beautiful deck. Whether you are going to install the timber deck on your balcony, garden landscapes, ramps, roof garden, outdoor, swimming pools or footpaths, we got you covered.
We carry gorgeous and long-lasting decking materials including Teak, Ironwood, Merbau, Chengal, Balau and Composite. Each Wood plank is hand-inspected for flawless quality with NO defect before we send it to your place for decking work.
Why You Should Invest on Timber Decking?
Ideas for Indoor and Outdoor Usage
Wood Deck is versatile to be installed in interiors or balcony. It beautifies your indoor living space and reacts perfectly to sunlight. That is why you can walk on your outdoor space barefoot on a sunny day with burning your feet.
Easy Care, Less Maintenance
Not only it creates a stylish and comfortable space to call your own. They lasting, durable and have a natural resistance to intense rain or shine or unwanted pest like termites.
Beautify you Living Space and also Add Value to your Property
Small Invest, Big Impression. Wood gives a rustic, naturally attractive appearance that adds aesthetic value and true elegance wherever it is installed, adding value to your property.
Honest, Transparent and Affordable Decking Pricing
Not only we deliver and install decking to your site fast, but we also extend a 100% satisfaction guarantee to back all our decking material and workmanship. 100% NO HIDDEN Charges, all in Black and White. You will enjoy the quality of our decking wood and enjoy big savings with us on your next decking work.